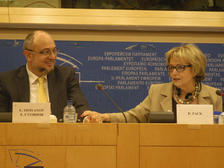 Following the invitation of the MEP Emil Stoyanov the 8 representatives of the Committee on Culture, together with the Chair of the Committee Doris Pack will visit the city of Plovdiv in October.
Today a confirmation from the Ministry for Culture and from the Ministry of Sport of Republic of Bulgaria, that the two respective ministers – Vejdi Rashidov and Svilen Neikov – will meet the delegation from the Culture Committee of the European Parlaiment. The meetings will take place on the 10th of October in Plovdiv.
The representatives of the European Parliament will meet also with the Mayor of Plovdiv Ivan Totev and with leading figures from cultural and educational institutions.